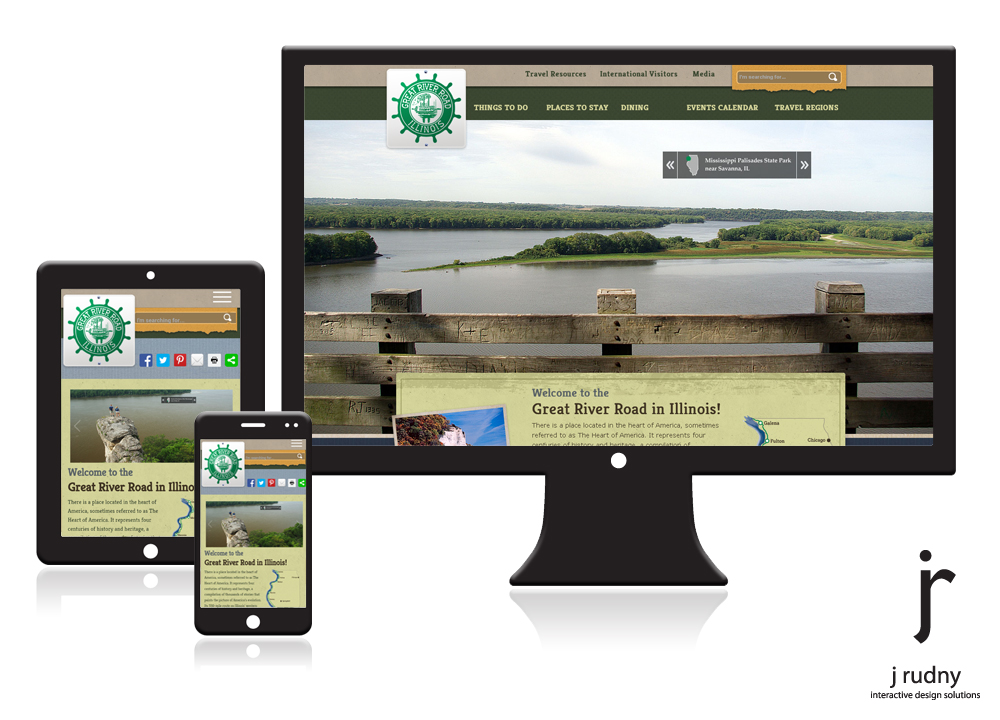 Great River Road Illinois
Western Illinois, USA

Objective
GreatRiverRoad-Illinois.org, managed by the Great Rivers Country Regional Tourism Development Office, is your roadway to discovering the Great River Road in Illinois. This 550-mile National Scenic Byway route on Illinois' western border has something to offer everyone from outdoor recreation and scenic views to historic museums and festivals. Representing the seven main regions along the western edge of Illinois, this project required complete redevelopment of the old website with an original J Rudny design, full response for all devices, ability to manage all content, comprehensive calendar of events, social media and mapping integration, and the ability to expand as needed.

Solution
Custom visual design

Full responsive layout for desktop, tablet and mobile devices

Complete Content Management System for timely marketing, venue and event content updates

User-friendly navigation targeting all audiences

Full site search

Social media integration and sharing

Organic SEO (to deliver long-term traffic)

Direct submission of information requests

Staff training for content maintenance
Impact
Since the site launched in December 2014
User Sessions Increase: 97%

Unique Visitors Increase: 105%

Information Request Increase: 403%
View Project at www.greatriverroad-illinois.org
Free Consultation
Find out more about how j rudny can combine creativity and technology for you. Contact us today for a FREE consultation.